Creative Compounds' Attempt to Continue Trademark Infringement of Sabinsa's ForsLean® Rejected by US Supreme Court
Sabinsa Corporation's protracted battle against Creative Compounds' trade mark infringement of Sabinsa's ForsLean® has been decided by the highest court in the land. On January 10, 2011, the US Supreme Court denied Creative Compounds' Petition for Writ of Certiorari. This means that the July 2010 decision of the Third Circuit Court in Sabinsa's favor is final and conclusive.
A Petition for Writ of Certiorari is a document which a losing party files with the Supreme Court asking them to review the decision of a lower court. It includes a list of the parties, a statement of the facts of the case, the legal questions presented for review, and arguments as to why the Court should grant the writ.
This Third Circuit ruling confirmed that Creative Compounds created a likelihood of confusion between Sabinsa's mark ForsLean and Creative Compounds' Forsthin, both of which refer to Coleus forskohlii extract.
"This means that the opinion and judgment of the Third Circuit is final and conclusive and we can proceed to the entry of judgment in the district court," said James H. Hulme, Esquire of Arent Fox LLP in Washington, DC, who represented Sabinsa in this matter.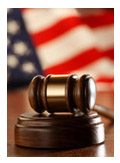 The US Court of Appeals decision that was not changed by the Supreme Court stated "it was undisputed that the ForsLean mark is commercially strong. Accordingly, this factor favors Sabinsa as a matter of law."
"When a company makes a significant investment in developing intellectual property, and then must expend additional resources to protect it, this kind of an outcome is gratifying," said Sabinsa founder Dr. Muhammed Majeed. "It is so important to the future of our industry that companies that make such investments are protected from infringement."