Sabinsa Corporation is Awarded Thomas Alva Edison Patent Award
Sabinsa Corporation, a manufacturer and supplier of herbal extracts, cosmeceuticals, minerals and specialty fine chemicals, was awarded the Research & Development Council of New Jersey's 2004 Thomas Alva Edison Patent Award in the Consumer/Small Company category for its U.S. Patent #5,804,596, "Method of preparing a forskolin composition for use in promoting lean body mass and treating mood disorders". The Thomas Alva Edison Patent Awards, which recognize the most revolutionary product innovations and important scientific breakthroughs originating in New Jersey, were presented at the Council's annual fall dinner on November 11, 2004, at the Liberty Science Center in Jersey City, NJ. On behalf of Sabinsa Corporation Dr. Vladimir Badmaev, Vice President of Medical & Scientific Affairs, accepted the award from Dr. Robert J. Schaffhauser, Chairman of the Research & Development Council of New Jersey.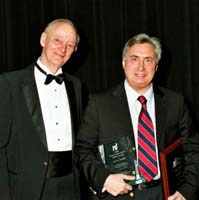 Companies throughout New Jersey were invited to submit patents for consideration for the Thomas Alva Edison Patent Awards. Each patent was reviewed thoroughly by the Council, which is comprised of senior representatives from industry, academia and government. Winners were then chosen based on their exceptional merit. Other 2004 award winners include Celgene Corporation, Engelhard Corporation, ExxonMobil Research & Engineering, International Specialty Products, Merck & Co., Inc., Princeton University, Rutgers University, Schering-Plough Research Institute and Wyeth to name a few.